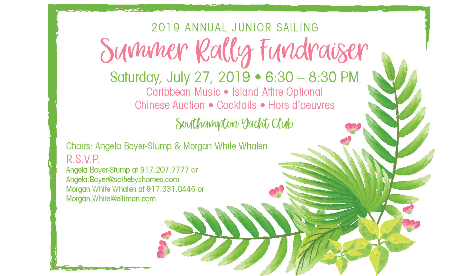 2017 Annual

Junior Sailing
Summer Rally Fundraiser
Saturday, July 22, 2016 | 6:30 - 8:30 PM
Live Music by the Michael Thomas Duo
Chinese Auction | Live Music | Cocktails & Hors d'oeuvres

Proceeds support the Jr. Sailing Program
Members, parents & guests are invited.

RSVP
Angela Boyer Stump (917)207-7777
Angela.Boyer@sothebyshomes.com
Alex Kuczynski Stevenson (646)334-8605
alexk@zebra.net
AUCTION ITEMS NEEDED
Help make the fundraiser a giant success by donating items, products and services for the auction. No items too big or too small! Your donations are valued and appreciated. Contact Angela or Alex.
2016 Annual

Junior Sailing
Summer Rally Fundraiser




Friday, July 22, 2016 | 6:30 - 8:30 PM
Thank you to everyone who attended and/or supported the Junior Sailing Rally last Friday. Special thanks to Event Co-Chairs Angela Boyer-Stump and Allison Schuringa for organizing a fun filled and successful cocktail party and auction event on Friday. Thank you also to John Tsiogiorgis for a generous and delicious contribution of food.