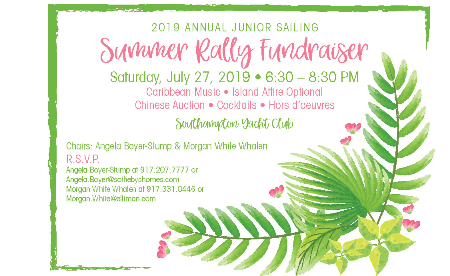 2019 Annual

Junior Sailing
Summer Rally Fundraiser
Saturday, July 27, 2017 | 6:30 - 8:30 PM
Caribbean Music • Island Attire Optional
Chinese Auction • Cocktails • Hors d'oeuvres

Proceeds support the Jr. Sailing Program
Members, parents & guests are invited.
Chairs: Angela Boyer-Stump & Morgan White Whalen

RSVP
Angela Boyer-Stump at 917.207.7777 or
Angela.Boyer@sothebyshomes.com
Morgan White Whalen at 917.331.0446 or
Morgan.White@elliman.com
AUCTION ITEMS NEEDED
Help make the fundraiser a giant success by donating items, products and services for the auction. No items too big or too small! Your donations are valued and appreciated. Contact Angela or Alex.